/home/clients/38f610259e4631aa9c408214608013f9/sites/savitridevi.org/wp-content/themes/SAVITRI/single.php on line 49
" when-visible="fade">Back
Warning
: Attempt to read property "slug" on null in
/home/clients/38f610259e4631aa9c408214608013f9/sites/savitridevi.org/wp-content/themes/SAVITRI/single.php
on line
66
Print
Letter from Savitri Devi to Young Comrade A – 3 September 1974
1,652 words
New Delhi
3 September 1974
Dearest young comrade A,
Excuse me! In the fire of my survey of the dealings of the Western Allies with Greece during and after World War I, I completely forgot to answer your question concerning Johann von Leers and his beautiful book Odal. So I am writing anew for the purpose. (It is always a pleasure to write about such subjects to a comrade such as you.)
First the author: born on the 24th January 1904 — i.e., on the very same day Frederic the Great of Prussia was born (though not, of course, in 1712). J. von Leers would therefore be 70 years old today, were he alive. But he died on March the 3rd, 1965 at Méadi, near Cairo, where he lived with his wife and daughter ever since the fall of the Peron government in Argentina — the government that had received him and protected him (along with so many others of our people).
He had been, under the Third Reich, a high-ranking SS officer in (I believe) the "Department for the Study of Race." One of the points on which he differed from so many Germans, and especially Germans from the East of Germany, was that he had no prejudice whatsoever against Slavs — "also an Aryan people, when pure," as he used to say. He was partly himself descended from Polish noblemen whose first ones mentioned in history had fought against the forcible Christianization of their people. He used to say (he said it again to me, when, in 1957, I was his guest in Egypt), "As long as Slavs and Germans had their own traditions and stuck to it they were anything but enemies. The Nordic God, Thor, with a hammer as a weapon, got on wonderfully with the Slavic god Perun, also armed with a hammer. Only when Christianity was forced upon both did the two peoples start squabbling." So narrow-minded colleagues would find his views "smacking of Bolshevism" — most unjustly; one only has to think of J. von Leers' career, and read his books, to be convinced of his total adherence to National Socialism. (He wrote a beautiful History of the NS Movement, that is out of print now — it would be! — and is not to be got for love nor money . . . save . . . perhaps in some antiquarian shop one might come across.)
He wrote Odal that I am, as I told you, re-reading for the Nth time, always with renewed admiration for the author's learning, and true NS Spirit.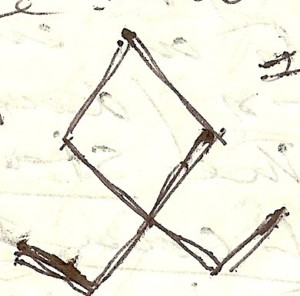 You ask, "What does 'Odal' mean?" It means this sign, which is one of the oldest, not merely "German" but Indo-European figura­tions. I believe that in Long-Whiskers in the last chapter (10 July 1957) where I describe events and Teheran, I speak of the embroidered Greek dress I wore on that day. I had also worn it while in Egypt. It contained the "odal" sign, in its embroidery. The subtitle of the book Odal is das Lebensgesetz für ein ewige Deutschland. It first shows how a certain number of values, metaphysical and social, are to be found permanently firm in the depth of pre-history among all peoples of Indo-European, or Aryan, blood, and especially among the Germanic stock (or Nordic) in Europe — the purest Aryan stock, for the Aryans who settled on the Mediterranean shores found older settlers there already — gifted races, mind you, but not "Nordic." They remained strong as long as they did not mix with them to a too great extent. In Odal the author shows in the very beginning the slow decay of Rome from early Vth cent. BC onwards, through more and more institutions favoring the Plebeians — the native, by opposition to the Nordic Latin conquerors — more and more.
He mentions (p. 84) the Law in Twelve parts (451 BC) that puts an end to the "old Nordic Odal law" (das alte nordische Odalrecht), i.e., the stable character of land property that can never be given or sold out of the patrician family: "Odal." "Odalrecht" is in other words that unwritten law of the old Nordic people — a people of "free land tillers" at the same time as land owners (think of Cincinnatus, whom the senate envoys found "plowing his own land"), whose religion was originally a pure worship of Light and Life — without images (no image was deemed worthy to represent such an Entity) but with mere symbols to remind the faithful of the basic cosmic truths. A cosmic religion; anything but a "man-centered" one. Already before 451 BC — and the later series of laws giving more and more power to the native Plebeians — "Temples and primitive images of Gods, signs of Etruscan superstition, had long replaced to a great extent the old Light-faith (Lichtglaube) of the Latins."
Rome grows to a city and a world power — at the cost of old blood purity and of her old Nordic soul. Have you ever thought of the enormous amount of customs and objects (such as the Curule Chair or the fascio — the fascio, that our XXth century Italians took as a symbol of regeneration, feeling it was "Roman") borrowed by the very early Aryan settlers in Latium from the Etruscans? And what about Tarquinus Priscus — that son of a Greek from Corinth (Demaratos, I believe was his name) and of an Etruscan woman — who came to Rome with his Etruscan wife, Tanaquil, and became the one before last king there? (They say Tanaquil — who was more or less a "psychic" person, as most Etruscan women were — foretold her husband his exalted fate as, on their way to Rome, she spotted an Eagle flying on his right side.)
But while the Roman Empire was building up, Germanic Europe — what is now Germany, and Scandinavia (Holland too, of course) was still racially pure — when the Aryans came there from the North, nobody was there; the former (Neanderthal) people were dead and gone centuries before as the whole land had been recovered with some miles of ice (like today's Greenland). The people still lived there as free farmers, under the "Odalrecht" and the religion of light. By the way, you must, when in Germany, go to Detmold, and from there to Horn and from there (three miles or so — four km.) to the old, the immemorial North European Centre of the religion of Light: the Externsteine: five vertical rocks in a row, once bulging out from a forest (now from what is left of it). I mention them in Pilgrimage. I go there every time I am in Germany.
Now Rome could not crush that Aryan power in the North. In that very forest — Teutoburger Wald — where the old Sun-centre stands — in the year 9 AD, Arminius (also called Herman) crushed Varus' legions and postponed the Latinization and Christianization of Germany for 800 years — glory to him!
(You must also see his monument nearby. One goes there by bus from Detmold.)
But when the Franks (a German people) became Christians by order of their chiefs (first of Chlodwig, 496 AD) and turned as "crusaders" against their German kith and kin, the conquest meant the end of "Odalrecht" and of the old religion of cosmic significance. The golden Irminsuls (a symbol of the Axis of the Universe, around which the stars revolve) were thrown by order of Charlemagne from the heights of the Externsteine, the roof of the old monolithic Sun Chamber, detached by means of water poured into a gutter all round it, and becoming ice and splitting the whole structure (this was in December 772 AD).
An anti-racialist (Christians are brothers, of whatever race) and anti-national state of affairs was forced upon the Saxons (conquered after thirty years of war by Charlemagne) and slowly upon the whole of Germany. No longer was property indivisible and not to be sold or given away but only inherited. Now gift of land was encouraged at the deathbed of any "free farmer" "for his soul" — if he were Christian. And he now had to be a Christian. The "Capitulare of Paderborn" — those laws imposed by Charlemagne upon unfortunate Germany in 785 AD and "written with blood" (Blutgeschrieben) — stipulated death for whoever refused baptism, whoever fled into the forest to perform old heathen rites, whoever burnt his dead (instead of burying them), whoever took part in a "heathen" ceremony, or did not observe Lent. The "Godis" — the priests of the old Light religion — the "wise men" and "wise women" were the worst persecuted. The runic script forbidden — the runic records destroyed — the same Old Testament, i.e., Jewish methods as those of the Spaniard in Mexico and Peru, 800 years later, but here applied to an Aryan people of the same blood as the conquerors.
To cut a long story short, the book Odal or history of the German peasantry though ages, tries to show that at the back of not all, but some of the sixteenth century peasant risings in Germany, against Lord and Church, also in the facts behind the so-called "witches'" practices — half a million so-called "witches" were burnt to death in Germany alone, during a time of 300 years — some 1,700 every year! — behind all this, J. von Leers shows a deep underlying nostalgia of the Germans for their "Odalrecht" (their heathen customs) and their religion of Light. And National Socialism is the latest manifestation of that century-long aspiration. (J. v. L. speaks of it in the last Chapter of Odal.)
This is — put in a few words — an attempt at answering your question. The book Odal is out of print and as difficult to find as anything. But you can try the antiquarian . . . from whom I got my copy for fifty marks some fifteen or twenty years ago. I just now can't remember the antiquarian's surname. I get like that, gaps in memory; his first name is Joachim (like von Ribbentrop). If I get back the whole name, I will send it to you.
With the best of remembrance, and the everlasting greeting of the faithful,
H. H.
Savitri

Warning: Undefined array key -1 in /home/clients/38f610259e4631aa9c408214608013f9/sites/savitridevi.org/wp-content/themes/SAVITRI/single.php on line 243