Back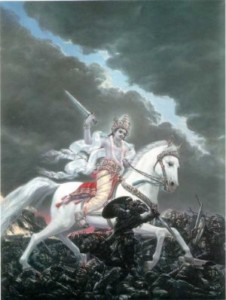 198 words
"Kalki will act with unprecedented ruthlessness.
He will spare not a single one of the enemies of the
divine Cause: not a single one of its outspoken
opponents but also not a single one of the luke-warm,
of the opportunists, of the ideologically heretical, of
the unhealthy, of the hesitating, of the all-too-human;
not a single one of those who, in body or in character
or mind, bear the stamp of the fallen Ages." — Savitri Devi
And are we so weak, I wonder, this race
Of ours, that we'd allow ourselves to die
Away for lack of regard, lack of place,
Lack of prospects left for us? Won't we try
To get them back? Or am I speaking of
Two distinct peoples who just look like one:
Folk and those who once were folk; we who love
Our race and those who could be overrun
And never fight at all? We had been taught
That blood and those who share it fully are
A race . . . but I say it's not true. We thought
They were Folk — we were wrong. The Avatar
Must return to this divided world then,
Made up of us and those we once called men.