Back
Letter to Miguel Serrano – 20 April 1982
Edited by R.G. Fowler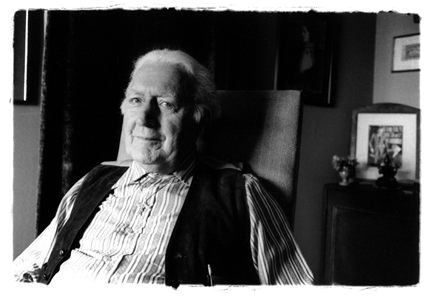 Below, in the original German and in English translation, is the third and final surviving letter from Savitri Devi to Miguel Serrano
Special thanks to Miguel Serrano for making Savitri's letters available. Thanks also to Bastian Thoemmes for his help with the transcription and translation.
 —R. G. Fowler
---
Alix par Lozanne
20 April 1982
Sehr lieber Kamerad !
Heute denke ich besonders an Sie und an Frau RAU. Ob sie sich noch weiter im Griff dieser furchtbaren Krankheit quält, oder nun bei den Ahnen, im Licht des Valhalls weiterlebt ? Wenn sie dort ist, dann möchte ich schnell auch bei ihr sein !
Ich sehe fast nicht mehr. Mein rechtes Auge war schon kaput, jetzt geht auch das linke denselben Weg. Ich sehe durch es wie durch dicken Nebel, kann kaum die Gesichter unterscheiden. Trotzdem bin ich noch imstande, zu lesen und zu schreiben (mit dickem Vergrößerungsglas) und ich könnte allein, in einem unabhängigen Zimmer leben und mein einfaches Essen zubereiten. Ich will weg von hier so schnell als möglich.
Nicht nur langweile ich mich hier, sehr selten kommen Besuche, und das Lesen ist schwer, wird immer schwerer. Nochdazu sind sämtliche Zimmertüren aus Glas, und das grelle Neonlicht des Korridors (ab 6 Uhr früh !) tut meinen Augen weh. Ich kann es nicht haben trotz schwarzer Brille – es tut so weh !
Ich vermisse die gute Frau Ettmayer [address omitted], bei der ich fast glücklich war trotz meinem Zustand.
Heute ist ER 93 Jarhre alt, wenn er wirklich noch am Leben ist. WANN wird Seine Macht endlich erscheinen, und ein Ende dieser jämmerlichen Dekadenz machen ?! Ich werde den großen Tag wahrscheinlich nicht sehen. Ich rufe jeden Tag den Tod, den Befreier herbei !
Grüßen Sie alle die Gleichgesinnten von mir (Frau B— [address omitted] Mann: Wulf-Dieter) und unsere "Viviane" aus New Delhi.
Mit dem allerheiligsten Gruß,
Ihre ergebene,
SAVITRI DEVI
Alix par Lozanne
20 April 1982
Very dear comrade!
Today I particularly think of you and of Mrs. RAU. Whether she still suffers in the grip of this awful illness, or now lives on with the ancestors, in the light of Valhalla? If she is there, then I would like to join her soon as well!
I see almost nothing. My right eye is already kaputt, and now the left is going the same way. By it I see as through thick fog, can scarcely differentiate between faces. Nevertheless I am still able to read and write (with a thick magnifying glass), and I could live alone, in an independent room, and prepare my simple meals. I want to be away from here as fast as possible.
Not only am I bored here, visitors very seldom come, and reading is difficult and becoming ever more so. What is more, all the room doors are glass, and the sharp neon light of the corridor (starting from 6 a.m.!) makes my eyes hurt. I cannot have it despite dark eyeglasses—it hurts so much!
I miss good Mrs. Ettmayer [address omitted], with whom I was almost happy despite my condition.
Today HE is 93 years old, if he is really still alive. WHEN will His Power finally appear, and put an end to this deplorable decadence?! I will probably not see that great day. Every day I call for death, the liberator!
Greet all the like-minded ones for me (Frau B— [address omitted] husband: Wulf-Dieter) and our "Viviane" from New Delhi.
With the most holy greeting,
Your devoted,
SAVITRI DEVI